GRANTWOOD VILLAGE



_______ SERVICES _______

314-842-4409




WHO TO CALL IF ...
you have a question

relating to the municipality
_________________________


General questio

ns



about the Village

.

CONTACT

Kevin Kelso

Chairman of the
Board of Trustees
314-842-1776



________________________
Rules & Regulations

Auto Sticker

Bulky Waste Pickup
Leaf Pickup

Minutes/Records



Sue Ehrhardt



Village Clerk
314-729-7204
________________________
Streets

Sewer Project



Snow Removal

Storm Water
Drains
Mark Kienstra



Street Commissioner
314-843-8843
_________________________

_

Remodeling your home



Renting the Town Hall

Reporting a distressed property

Boundary dispute with neighbor

Other code violations or



request for a variance



CONTACT



Bob Bess



Building Commissioner
314-843-2877
________________________
Village Budget



Village Expenses

Patricia "Pat" Williams



Village Treasurer
314-722-3407
_________________________

Law Enforcement

Officer Mike Thomeczek
at the Town Hall
314-842-4409/ ext. 2


Board of Education
Pres. Kathy Kienstra
(Kathy is a Forest Haven

resident and wife
of Mark Kienstra who is a

member of
the Grantwood Village
Board of Trustees)

Long Elementary School
9021 Sappington Road
St. Louis, MO 63126
Office: 314.729.2450
Attendance Hotline
314-729-2455
Truman Middle School
12225 Eddie and Park Road
St. Louis, MO 63127
Office: 314.729.2470
Attendance Hotline
314.729.2475
Homework Hotline
314.729.2400
_________________________________
UTILITIES
Metropolitan St. Louis
Sewer District
Broken Water Main
Flooded Basement
(Telephone & high-speed Internet)

(Cable TV & high-speed Internet)
Customer Service
(314) 768-6260
_______________________________
ATTRACTIONS
in Grantwood Village




Grant's Farm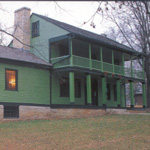 Ulysses S. Grant
National Historic Site






Grant's Trail

VOTING
Everythingyou need to know
AB​OUT VOTING
St. Louis County
Board of Elections

12 Sunnen Dr., Ste 126
Maplewood, MO 63143

(314) 615-1800
FAX (314) 615-1998
NEXT ELECTION

Missouri 2014
Primary
Election
August 5

Please be an



INFORMED VOTERS


__________________________


Your representative in
St. Louis County is
Councilman Pat Dolan
____________________________
 Your Missouri STATE
Elected Officials Are: _____________________
   Governor Jay Nixon    Lieutenant Governor 
Peter Kinder

Secretary of State 
Jason Kander  
State Auditor
Tom Schweich

State Treasurer 
Clint Zweifel
 Attorney General 
Chris Koster
Missouri State Senate
Scott Sifton 

Missouri State 
​Representative
District 92

Rep. Genise Montecillo 
***********************
YOUR 
U. S. LEGISLATORS



U. S. Senators



U. S. Representative 
State of Missouri
District #2
U.S. Congresswoman
​ Ann Wagner 
​

Handy Tips About



LIVING in FOREST HAVEN

Parking

Cars cannot be parked on the street overnight. If you plan a party, notify the police so they can post parking signs.

Fence Laws

in the Village are different than those in unincorporated St. Louis County (see ordinances for details.

Leash Laws for dogs

are enforced. Enjoy walking your dog, but always carry a bag for waste. Do not allow your dog to discharge on private property.

Auto License / Stickers

Purchase or renew your auto license at the Department of Revenue office on Gravois, just east of the Dairy Queen on MacKenzie Road.

Tell the agent that you live in Grantwood Village to ensure that the appropriate tax money goes to the Village rather than the county .

You are required to obtain a Village sticker.

Contact any Village trustees.
Phone: 314-842-4409

Fax: 314-842-8837